The Festival

Struggling writer Charles Keene (Kevin Pinassi), travels from New York City to a small New England town to meet with his fiance's grandparents for a traditional festival. Upon arrival, he discovers that something very strange is going on with the town and its people. As Charles discovers more about the town, he learns that there is much more to this event than your normal town festival. Charles needs to find a way to escape before his fate for this festival is revealed!

The Festival is a surreal nightmare ride into madness!

The Festival is loosely based on H.P. Lovecraft's short story of the same title, about a man who travels to visit some relatives in an old Massachusetts town. Things become strange upon arrival, as it looks very old and deserted and his concerns become more solid. Lovecraft's story is the first to also introduce the dreaded book the Necronomicon.

Dark Vision Films brings you the Special Edition of "The Festival"! From the Director of "Am I Evil", brings an all new visual nightmare! The dvd is also loaded with Special Features, which include:

*Filmmaker Commentary

*Behind the Scenes and Outtakes

*Deleted Scenes

*Still Gallery

*Trailers

Cast:

Kevin Pinassi, Victoria Guthrie, Bill Kozy, Bob Lasprogato, Bonnie Hauser .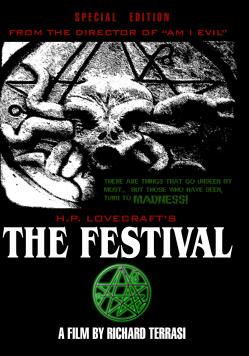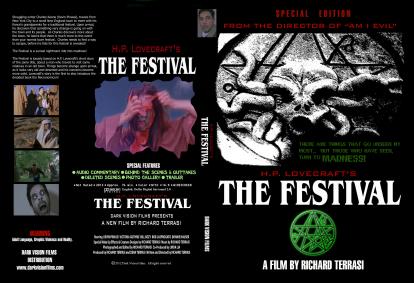 DVD Price:

$15.99 + $2.99 S/H

     2022 Dark Vision Films.  All rights reserved.