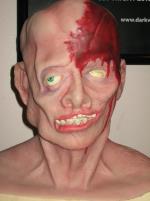 JASON "FINAL CHAPTER"

     SILICONE MASK!

"COMIMG SOON" 

MORE GREAT PROPS AND ITEMS!

Sinister Creations is an effects workshop division of Dark Vision Films.  The Store Shop will give online buyers the opportunity to purchase unique props and creations from the craftsmanship of Sinister Creations, as well as novelty items such as T-shirts, Coffee Mugs, Posters and many other items!

    2023 Dark Vision Films.  All rights reserved.